North 'put a fork in me' 50 miler.  A good start, a miserable middle and a strong finish!
9:39.11 - 12th place.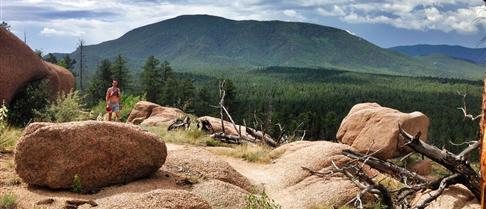 The legendary Ann Trason, 14 time winner of the Western States 100 once remarked that running a 100 miles is like living your life from start to finish, beginning as a baby and growing old through the race.  While not a 100-miler, I got as close to getting a sense of those feelings this weekend as I bobbed along a roller coaster of emotion I've never experienced in a foot race before.
With Western States coincidentally being held on the same day this year, I didn't get a chance to enjoy a day of following twitter feeds and FB posts about the incredibly deep field assembled in CA.  Instead I was in Pine, Colorado trying to get a good training race in ahead of the Leadville 100 later this summer.
Felix wearing Dadda's race day shoes.  He's got a ways to grow into them yet.